公司新闻
监控录像恢复工具 DVR Recovery
2015-07-02 10:50:11

DVR Examiner Version 2.1.1
Released 2017-12-22
-Added support for the Prod2_264 filesystem
-Resolved scan issues with the ICATCH_264 Filesystem

DVR Examiner Version 2.1.0
Released 2017-11-15
- Added support for the DMD_264_M filesystem.
- Added support for the RE4_264 filesystem.
- Added support for inaccessible recovery from the HIK_264 filesystem.
- Forensic imaging capability has been improved and restored.
- Improved support for E01 forensic images, particularly over network connections.
- Implemented clip "Tags" (small notes for each clip).
- Implemented a per-channel motion sensitivity configuration.
- Added an "Audit Log" report to see what has been done with a given clip or clips.
- Added the ability to double click on saved case to load it within DVR Examiner.
- Performance improvements for the following filesystems: RSF_264 (entire family), NVR_dc
- General improvements and added support for frame-level timestamps within UAVTECH_M4 and L64.
- Implemented a keep-alive process to keep Windows from putting disks to sleep when not in use.
- Implemented detection for SSF_xm_MPEG.
- Added the ability to clear recent images and saved cases.
- Resolved the issue of very slow exports of open format video clips due to a memory leak.
- Improved performance of selecting all (or many) clips within the clip list.
- Addressed small issues with artifacting in certain circumstances with the following filesystems: hikfat, SS_MPEG, UAVTECH_M4
- Resolved the issue of having to remove/reinsert the dongle after an application crash.
- Resolved an issue with no clips found during a scan of IFS filesystems in certain situations.
- Resolved an issue that would potentially cause Windows to blue screen when a disk has gone to sleep.
- Resolved several issues related to saving/loading a case.
- Improved retry/error handling/notification when a connection to a disk is lost.
- Added page specific links to User Guide.
- Added source data information to ribbon Help tab.
- Added ability to set a default export directory.
- Fixed issue when tabbing on the Case Information screen.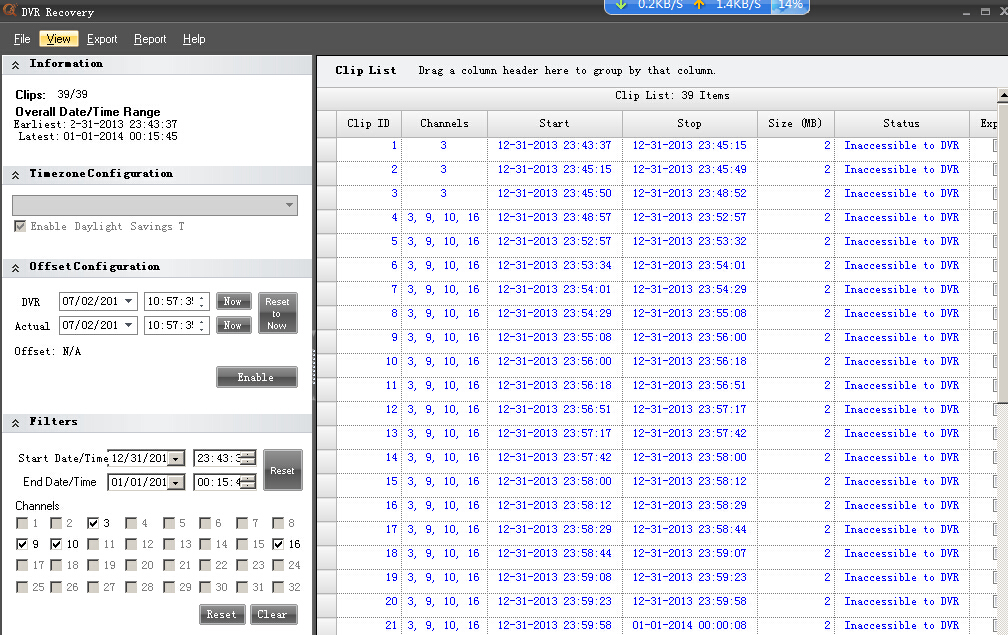 We get this question a lot, and the simple answer is: we don't know. DVR Recovery targets and supports a specific DVR filesystem, or DVR system board. Each board has its own unique way of processing and storing video, and a single version of a board could be found in multiple models by multiple manufacturers. For example, we have found a single particular board in numerous Lorex, Honeywell and Ganz models. As a result of this, it is very difficult for us to determine how many makes/models are supported. As of the version 1.6 release we support, in some capacity, over 75 unique DVR Filesystems. We're estimating that will include over 500 individual DVRs, but as mentioned above, we can't easily create a list of them. We have roughly 150 DVRs in our testing process so far and that number is always growing. We are constantly hearing success stories from users that have successfully recovered video from DVRs made by: Swann, Q-See, Night Owl, Zmodo, Lorex, GE, Vonnic, Veraz, GEN IV, and many other 'black box' and 'big box specials.'
We ask for user feedback by submitting a DVR Feedback Report on our Support Portal in order to better capture this information so we can publish a 'known supported' list.
支持 监控录像被误删除 误格式化 监控磁盘被初始化等数据恢复, 扫描速度快 产品细节完善 也可作为调查取证或监控管理员使用
推荐一款老外的 各类监控录像数据恢复工具 效果就不清楚了,下载地址 http://url.cn/4EkhzYI 试用key g6soGIKR2p4W32xPipQOCYM8L+bLpRlJomBa6efVkNwDjPDN6/y8lZIfJOkFU7PkmMBgk5hpw2mJxpnUEVNgIaw==
支持 众多品牌 如果发现不支持您的监控 你可以 提交案例 基本一个工作日即可支持, 常见的大华 WFS 海康 安联锐视等监控全部支持 支持下列品牌 不限于此